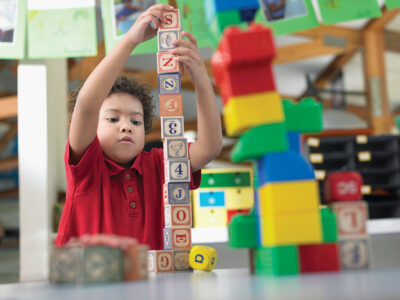 We are so excited to offer these amazing new preschool classes to the community. Each class will enhance your child's skills in areas of cognitive ability, sensory, fine motor, imagination, sharing, and much more. We look forward to bringing our talents as professional preschool teachers in early childhood education in planning each class. Most importantly, classes are designed for children to be in a positive enriching preschool environment, sharing, interacting with friends, and experiencing fun at the same time. Children must be potty trained and able to do bathroom duties by themselves. Held in the Sycamore Park District Community Center.
To register online, click here.
ABCs 123s & Me
Ages 3-5 | Little ones will start their ABCs and 123s through hands-on and creative play. In a preschool-based environment, your child will enjoy and share circle time, stories, fun games, and a weekly craft to enhance their letter and number recognition. New letters and numbers will be introduced weekly. At the conclusion of the session, each child will bring home their own letters and numbers project to encourage continued practice. NO CLASS 10/31
Mondays, Sep 12-Nov 28 | 9:30-11am | Code: 3020801-01
Resident $120/Nonresident $130
Friendship Enrichment Station
Ages 3-5 | Explore, Discover, and meet new friends at Friendship Station. Children will circle through enrichment stations which include sensory, small motor, art, creative crafts, textures, puzzles, and lots more. Each week the station concepts will vary to enrich little ones and their imaginations. Come with your friends or meet new ones! Content will change each session so register for one or both. NO CLASS 11/24
Thursdays, Oct 27-Dec 8 | 9:30-11am | Code: 3020702-02
Resident $71/Nonresident $81
Seasonal Fun Time
1: Fall, Leaves, and Apples
Ages 3-5 | Let's jump into Fall with our friends! This class is the perfect way to start the season with everything children love about Fall: Colors, apples, leaves, and more. We will discover the smells and colors of Fall through crafts, hands-on activities, sensory stations, stories, and fingerplays.
Mondays, Sep 12-26 | 12:15-1:45pm | Code: 3020502-01
Resident $33/Nonresident $43
2: Come to the Pumpkin Patch
Ages 3-5 | Pumpkin pumpkin galore! Your child will enjoy pumpkin activities as we engage in pumpkin crafts, orange painting, stories, and finger plays. Pumpkin games, songs, and play are sure to be a hit with your little ones. Each child will bring home a small pumpkin of their own on the last day of class.
Mondays, Oct 3-17 | 12:15-1:45pm | Code: 3020502-02
Resident $33/Nonresident $43
3: Scarecrow, Gobbles, and Acorns
Ages 3-5 | Join in the fun with scarecrows, turkeys, and acorns. We will get silly with scarecrow dances and a turkey crawl. Children will engage in crafts, stories, hands-on play, and sensory bins. Name our classroom scarecrow and meet Tom the Turkey! It's turkey and scarecrow time, gobble gobble!
Mondays, Nov 7-21 | 12:15-1:45pm | Code: 3020502-03
Resident $33/Nonresident $43
Down on the Farm in our Town
Ages 4-6 | Who is in the barn! Cows, horses, chickens, and hens. Come to our classroom barn as we enjoy farm animals, doing crafts, games, and farm discovery. Down on the farm! NO CLASS 11/24
Thursdays, Oct 27-Dec 8 | 12:15-1:45pm | Code: 3020802-01
Resident $71/Nonresident $81
Holiday Time Out
Ages 3-6 | Join the festivities as we turn our classroom into a gingerbread extravaganza! Gingerbread-themed stories, crafts, sensory bins, and games will be incorporated into each class. In small groups, we will create and decorate non-edible gingerbread houses encouraging socialization, decision making, and the enjoyment of working with friends. Each group's gingerbread house will be put on display for all to see and enjoy.
Ages 3-5
Mondays, Dec 5, 12 | 9:30-11am | Code: 3020704-01
Mondays, Dec 5, 12 | 12:15-1:45pm | Code: 3020704-02
Ages 4-6
Th Dec 15, 22 9:30-11am 3020704-03
Th Dec 15, 22 12:15-1:45pm 3020704-04
Resident $28/Nonresident $38
Reindeer Games Holiday Camp
Ages 4-6 | Add to your child's holiday fun with this new and exciting camp! Mornings will include holiday stories and circle time for sharing, crafts, and hands-on play to enrich our little reindeer's imagination. We will then head to the gymnasium for games, dancing, and large motor activities that encourage teamwork and movement. Each Reindeer Camp member will receive their very own Reindeer Camp badge!
Please send your child with a healthy sack lunch each day. Apple juice or water will be provided. Be sure to indicate any food allergies on the registration form.
Monday-Wednesday, Dec 19-21 | 10:30am-1:30pm | Code: 3020201-01
Resident $71/Nonresident $81