Thursdays • 7pm •  GoodTymes Shelter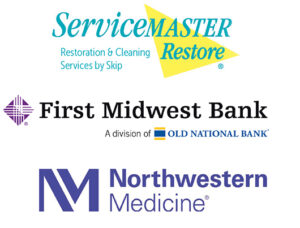 Bring your seating/picnic blankets, family, and friends! Food, beer, and wine are available for purchase.
Sponsored in part by Service Master Restoration and Cleaning Services by Skip, First Midwest Bank a Division of Old National Bank, Northwestern Medicine.
June 2  •  Mr. Myers
Presented in partnership with the Sycamore Public Library
Mr. Myers blends the tropical sounds of calypso and ska, the rhythms of reggae and a little rock-n-roll with some favorite classic tunes to create their own special style of music – Caribbean Rock. Mr. Myers' unique combination of musical styles never fails to entertain audiences everywhere, young and old. mrmyers.com
June 9  •  StingRays
The StingRays play the greatest music ever written and play it with the energy, passion, and authenticity of the artists whose music they love. Excellent musicians, everyone LOVES the StingRays Rock & Roll. The StingRays love interacting with audiences through trivia, dance contests and even joining people in the audience. The StingRays always get the crowd dancing and singing to songs from Rockabilly -tons of sixties- to the 70's. thestingrays.com
June 16  •  MacKenzie O'Brien
The Mackenzie O'Brien Band is Chicagoland's hottest young country band fronted by the young woman referred to as Chicago's new country queen! Mackenzie has had growing success and recognition in the midwest and in Nashville where she regularly performs! The band covers songs from today's country stars such as Little Big Town, Maranda Lambert, Chris Stapleton, Maren Morris, to stars of the past like Dolly Parton, Waylon Jennings, and even the Eagles! mackenzieobrien.com
June 23 – No Concert
June 30  •  Second Time Around
Presented in partnership with the Sycamore Parks Foundation
You know the songs, but you haven't heard them covered like this before. Splendid three-part harmonies of Yes, Fleetwood Mac, and the Eagles; pitch-perfect guitar solos of Lynyrd Skynyrd and Joe Walsh; rumbling organ solos of Boston and Deep Purple; blazing harmonica of the Doobie Brothers, Rolling Stones, and Pretenders! Second Time Around has been thrilling audiences for over a decade. secondtimearoundmusic.com
July 7  •  R-Gang
Rescheduled for August 4.
July 14  •  Family Concert with Leonardo
Presented by the Sycamore Public Library
Drinks, snacks, and SweetButts Cotton Candy available for purchase.
All ages | Bring your picnic blanket or chairs, dancing shoes and best air guitar moves! It's time to go rockin' and reading with Parents Choice Award Winning family musician, Leonardo. There will be plenty of sing-alongs during this high energy, interactive performance. Will be held in the Community Center Gym in case of rain. No registration required.
July 21  •  Off the Charts
The talented 5-piece line-up features multi-fronted male and female vocals with supporting harmonies that cover a wide variety of pop, rock and Country. From AC/DC to Prince and all points in between, Off the Charts is sure to get the audience up, dancing and rocking all night long. facebook.com/offthechartschicago
July 28   •  SunFallen
SunFallen will take you back a few decades to when live music meant something, not like a group of soccer dads lip syncing to a karaoke backing track. A time when guitars howled, the bass drum kicked, and the vocals of a song took you back to a place you've missed.  SunFallen continues to draw loyal fans since their debut in 2009 as well as claim new fans with their signature sound and style.  The band covers modern and classic Country and Rock. Aside from covering great music, SunFallen has released two albums of original music reminiscent of the gritty flavor of the bands they cover. sunfallen.com
August 4  •  R-Gang
Specializing in Motown/R&B, R-Gang is comprised of highly-respected members of Chicagoland's musical community, with backgrounds as diverse as the band members themselves. From playing with nationally known artists such as Survivor, to writing and recording for groups like The Doobie Bros., the musicians in R-Gang hold many years of experience between them. r-gang.net
---
Thank you to the sponsors who make this concert series possible!
Service Master Restoration and Cleaning Services by Skip
First Midwest Bank a Division of Old National Bank
Northwestern Medicine
Ideal Industries
Sycamore Parks Foundation
Sycamore Public Library
Mary E. Stevens Concert and Lecture Fund
Hauser-Ross Eye Institute
Edward Jones, Eric Anstedt
Heritage Woods of DeKalb